Od Avinu Hai
Helping the youth to help themselves
Mission Statement
The concept of Od Avinu Hai came from Rabbi Daniel Rowe and OYH congregant Israel Joshua and was established in 1997 by Rabbi Saul Kelly, who actively ran it for several years organising many large events, including bringing in guest speakers with over 500 people in attendance, and holding the biggest Purim party in England (at the time) of 400 people! We had weekly learning programs, and of course the famous Yom Kippur explanatory services which would inspire hundreds of people to connect to their prayers and give meaning behind what they are saying.
In 2001, Reuven Jacob and John Richey joined Rabbi Kelly in the running of events, and helped expand the network that Od Avinu Hai were reaching out to, to continuously inspire the younger generations and keep them interested. They also set up the clubhouse at the back of the shul for guys to hang out and play Nintendo, in a healthy and fun atmosphere.
In 2005 John Richey took charge of running Od Avinu Hai, and together with Yosef David and Ben Moses, they successfully hosted over 70 events for children aged 5-12, teens from 13 to 17, 18+, and college students (+21). There were regular learning programs and prayer services, parties in honour of the chagim (including purim shpeiling), and Avot Ubanim – connecting fathers with their sons through a bonding learning experience. Music events were held too, including Rock Clashes and Accapella performances, bringing out the talent in the younger generations in a fun and kosher environment. Shabbat meals were hosted with exquisite food, inspirational guest speakers and a real feeling of closeness amongst everyone – a feeling that we belong. A regular magazine was produced and a copy of the Purim Edition 2008 can be seen by clicking on this link: Od Avinu Hai Magazine Purim Edition 2008
In September 2016, Od Avinu Hai picked up again with Jason Ibrahim and Jordan Moses as lead youth directors. From humble beginnings and a make shift minyan in the shul hall, they managed to make regular shabbat minyanim in the beth hamidrash for a smaller and more specific group of high school boys, with the boys leading all services. They are rewarded by enjoying a lavish kiddush every week with shwarma, popcorn chicken and even Chinese on special occasions!
After establishing ourselves as the only weekly Sephardi youth minyan in Hendon, OAH finally got their own chill room which the boys (colourfully!) decorated themselves.  This meant the start of the midweek learning where fundamental topics were covered with the boys including davening, daily halachot of a Jew, and chagim. These sessions were accompanied with dinner – usually burgers & chips – and followed by FIFA, fusball and table tennis.  The chill room has also allowed the Od Avinu Hai leaders to have a place to learn with the boys in an environment where they really feel at home, and has helped give a great sense of achdut in the group.
The calendar is filled with events at the end of every school term, which has helped create deeper bonds between the guys in different, fun atmospheres. These events are used as incentives to encourage the boys to attend the weekly minyanim on time and consistently. In the last few years, Od Avinu Hai have carried out 2 youth takeovers – where the main service of the shul was led entirely by the youth boys. Some of the activities in recent years include football zorbing in the park, Lag Ba'omer BBQ's, paintballing, go karting and even driving a supercar, all of which are subsidised as an incentive for the avid minyan goers.
Since March 2020, when COVID-19 has disrupted all of our lives, including our youth minyan and events, there has still been weekly learning via "ZOOM". Each Wednesday evening, Youth Director, Jordan Moses conducts a shiur on Chelek Aluf of the Shulchan Aruch,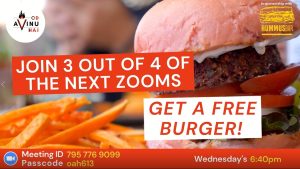 (halacha of the day). This has allowed the boys to still feel connected during this difficult time and has provided them with practical knowledge and halachot including discussions on the best way to daven if this has to be done without a minyan. During this period the teens have also proudly produced three newsletters with over 20 pages in each, including Divrei Torah on Shavuot and the Chagim from Rosh Hashanah to Sukkot and on Pesach. These newsletters were printed and posted out to all community members so that they can have some reading material for these important festivals which many of us had to spend in Lockdown, or with less preparation and involvement than usual. We are extremely proud of the work that was put into these newsletters by the boys and they can be viewed by clicking on the following three links:
Od Avinu Hai Shavuot Newsletter 2020
In August '21 Od Avinu Hai raised almost £30,000 in their first ever charity campaign, where every donation received was doubled!  This was to allow them to continue to run regular activities and incentives for the teens, enhancing the unity and encouraging further growth.  The fact that the wider community came together in just 36 hours to raise these funds is a testament to the importance and value that Od Avinu Hai provides to it's boys, their families and the community.
Throughout the years, Od Avinu Hai has had the full support, encouragement and guidance of both Dayan Abraham David and Rabbi Yossi David. There is no doubt that their continuous input has been essential to the success of OAH.
How to donate to Od Avinu Hai?
Donate via PayPal:   https://www.paypal.me/OYHshabbaton 
Donate via Bank Transfer:
Account Name: Jordan Moses (Tel: 07792 248816)
Sort Code: 04-00-75 (Revolut)
Account Number: 17214769
Below is a link to watch to the "Virtual" Od Avinu Hai Purim Shpiel from 2021 which won 2nd place in the GIFT UK online shpieling competition.                                                                                                                      There is also a link to watch the Od Avinu Hai Charity Campaign video from 2021 which shows more details of what OAH does.